The summary report of the Swiss LGBTIQ+ Panel 2022 is now online.
In 2022, we launched the fourth survey of the Swiss LGBTIQ+ Panel Survey to gather more information about the experiences of LGBTIQ+ people in Switzerland. In total, 3'478 people from all cantons participated in this survey. We want to thank you again for your support. Below is a summary of the key findings.
To access the reports, please click here:
Results of the 2022 Swiss LGBTIQ+ Panel Survey
In 2022, important legal changes for lesbian, gay, bisexual, trans, intersex, and queer (LGBTIQ+) people were implemented in Switzerland. The 2022 annual survey of the Swiss LGBTIQ+ Panel aimed to capture how these developments affected LGBTIQ+ people. How and where do LGBTIQ+ feel supported and where do they experience discrimination? To what extent do they feel accepted at school, university, and work? Thanks to the data collected from over 3'400 people, many of these questions were answered.
Ambivalent effects of the marriage equality campaigns on well-being
In 2022, LGBTIQ+ individuals were exposed to the campaigns about marriage equality through many channels (billboards, social media, news, and conversations). When asked how these campaigns have impacted them, 78% of LGBTIQ+ individuals indicated that the campaign opposing marriage equality had a negative impact on their well-being. However, 69% of participants indicated that the campaign in favor of marriage equality had a positive effect on their well-being. The campaign for marriage equality empowered many LGBTIQ+ persons, which may have protected them from the negative effects of the campaign against marriage equality. Members of the LGBTIQ+ community showed their support of marriage equality by encouraging those around them to vote yes (87% of participants), displayed rainbow flags (70%), or posted messages on social media (59%). However, we found this engagement came at a personal cost: One in five people said they had been insulted as part of their participation in the campaign in favor of marriage equality.
Discrimination still present; Selective disclosure
LGBTIQ+ individuals continued to face multiple forms of discrimination in 2022. Members of sexual minorities (e.g., gay, lesbian, bisexual, and pansexual individuals) and gender minorities (e.g., trans and intersex individuals) were very frequently exposed to jokes and stared at in public spaces making them feel uncomfortable. For example, 76% of participating members of gender minorities reported systemic discrimination (difficulties in changing their name and gender markers, absence of a third gender option). As for coming out, it is still a delicate and lengthy process. This finding is illustrated by the fact that more than a quarter of the participating LGBTIQ+ people have not come out to their family.
School, university, and workplace: a long road to full acceptance
Queer individuals have less of a sense of "being able to be themselves" as well as "feeling like they belong" at school, university, or work. Nearly one in two trans or intersex people report discrimination at school, university, or work, while for sexual minority members it is one in five. Many people do not know where to get support in such situations. Almost half of the participating queer students stated that they did not know any contact point or resources.
What do LGBTIQ+ people want for the future?
Despite recent legislative changes, LGBTIQ+ people in Switzerland continue to experience discrimination, inequalities, and do not feel fully accepted. Members of gender minorities are also calling for more options in gender markers, protection from discrimination, access to safe health care, gender-neutral infrastructure, and a right to physical integrity for intersex children.
What is the Swiss LGBTIQ+ Panel?
The Swiss LGBTIQ+ Panel is led by Dr. Léïla Eisner (University of Princeton and University of Zurich) and Dr. Tabea Hässler (University of Zurich). It is a longitudinal study assessing the situation of LGBTIQ+ (lesbian, gay, bisexual, trans, intersex, and queer) individuals in Switzerland since 2019 in an annual manner (2019, 2020 and 2021). In 2022, 2,500 LGBTIQ+ and 900 cis-heterosexual (i.e., heterosexual individuals whose gender identity corresponds to their assigned sex) people completed the survey.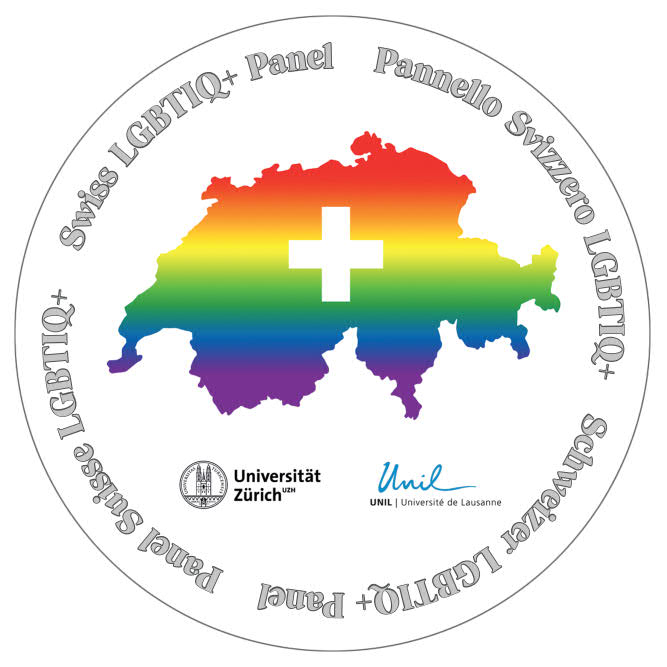 The goal of the Swiss LGBTIQ+ Panel is to extend our understanding of how LGBTIQ+ individuals feel integrated in Swiss society and how the situation is changing over time.
Following people over time is important because we currently know very little about how peoples opinions and levels of satisfaction with their lives may change gradually over time or change rapidly in response to current events in society (extension of the anti-discrimination law, legalization of same-sex marriage).

We believe that the insights of the Swiss LGBTIQ+ Panel and the study on the Marriage Equality Referendum have high practical relevance for LGBTIQ+ and cis-heterosexual individuals, people in the educational context, LGBTIQ+ and other non-profit organizations, practitioners, and policymakers aiming to promote the health and integration of LGBTIQ+ individuals.