On 18th December 2020, the Swiss Parliament voted, by a large majority of members, to open civil marriage to same-sex couples. The adoption of this long-awaited law is an important achievement and represents the next step towards equality for all couples. Nevertheless, a referendum successfully requested by opponents, who collected over 50'000 signatures against marriage equality, has been accepted and will be subject of Federal vote on the 26th September 2021. Although LGBTIQ+ (lesbian, gay, bisexual, trans, intersex, and queer) individuals are socially widely accepted in Switzerland, they are nonetheless legally unequal compared to their fellow cis-heterosexual citizens (i.e., heterosexuals individuals whose gender identity corresponds to their assigned sex).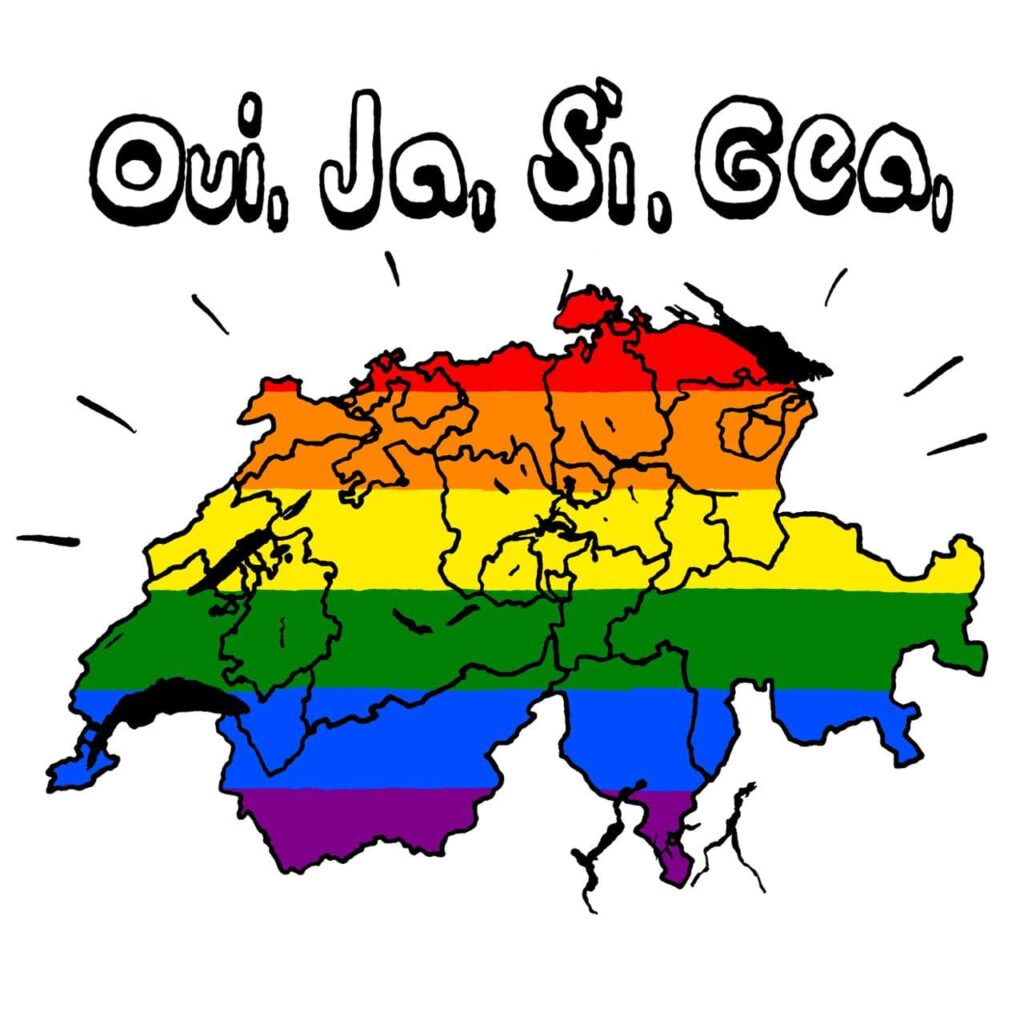 Switzerland said yes to marriage equality!
The introduction of the Civil Marriage for All in different countries around the world demonstrated with several studies, that anxiety, unsafe behaviors, and LGBTIQ+ individuals' suicide rate declined with the stigma linked to them. The strengthening of social acceptance of the LGBTIQ+ community produced by the legal recognition of same-sex love would allow same-sex couple and their children to be better protected by the law. Despite the Federal Constitution ensuring the right to marriage and to have a family, henceforth prohibiting lifestyles' discrimination, LGBTIQ+ individuals suffer from a fundamental legal and personal discrimination on their behalf that would be resolved with Civil Marriage for same-sex couples, by finally securing a better protection for families and their children in general.1
Scientific studies are unanimous in confirming also that kids raised by same-sex parents or other rainbow and non-traditional families grew up as well as the others, considering that children need, above all, stable and loving reference persons, regardless of their gender and their sexual and emotional orientation.2,3
The opening of marriage to same-sex couples is the most conscious development of an institution which is intrinsically connected to the reality of families and to societal values, as it has continuously been throughout the centuries. Different kinds of families have been part of our society for a long time and international research demonstrate that marriage itself reinforces families, by making them feel safer and accepted, other than symbolically more committed and visible to the entire society.4,5
---
[1] Hatzenbuehler, M. C. & Johnson, R. C. (2020). The impact of institutional discrimination on psychiatric disorders in lesbian, gay and bisexual populations: A prospective study. American Journal of Public Health, 100(3), 452-459.
[2] Anderssen, N., Amilie, C., Grasso, C., Mayer, K. Safren, S., & Bradford, J. (2012). Effect of the marriage laws on health care use and expenditures in sexual minority men: A quasi-natural experiement. American Journal of Publich Health, 102(2), 285-291.
[3] Ogolsky, B.G., Monk, J.K., Rice, T.M., & Oswald, R.F. As the states turned: Implications of the changing legal context of same-sex marriage on well-being, Journal of Social and Personal Relationships. 2019, 36(10), 3219-3238.
[4] Wienke, C., & Hill, G. J. (2009). Does the "marriage benefit" extend to partners in gay and lesbian relationships? Journal of Family Issues, 30(2), 259-289.
[5] Evidence from a random sample of sexually active adults. Journal of Family Issues, 30(2), 259-289.